ΕΙΔΙΚΟΣ ΚΙΝΗΣΙΟΘΕΡΑΠΕΙΑΣ
ΜΟVEMENT THERAPIST
ANTΩΝΙΟΣ ΤΣΙΑΡΑΣ
***************************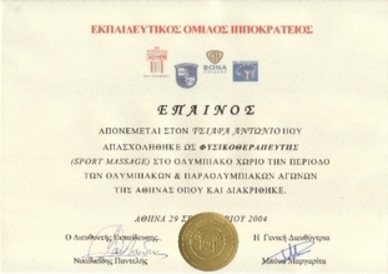 You can use this page to describe your products in more detail and post pictures about your different products and services.

If you don't need a Products page you can rename the page by clicking the Properties button below or you can delete it in the My Account section.
IF YOU WANT SEE THE OFFICIAL GREEK PAGES
OF THIS SITE, LOOK at your LEFT SIDE and PUSH
"Greek"
LANGUAGE.
ΓΙΑ ΝΑ ΔΕΙΤΕ ΤΗΝ ΙΣΤΟΣΕΛΙΔΑ ΣΤΗΝ
ΕΛΛΗΝΙΚΗ ΓΛΩΣΣΑ , ΠΑΤΗΣΤΕ "GREEK" ΠΑΝΩ ΑΡΙΣΤΕΡΑ!
ΚΑΛΩΣ ΗΡΘΑΤΕ !
WELCOME !