ΕΙΔΙΚΟΣ ΚΙΝΗΣΙΟΘΕΡΑΠΕΙΑΣ
ΜΟVEMENT THERAPIST
ANTΩΝΙΟΣ ΤΣΙΑΡΑΣ
***************************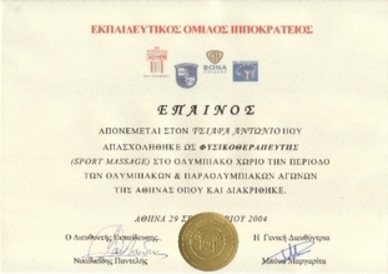 MY NEWS-moves !
May 30
antontsiaras
[KINISIOTHERAPEIA]
[Kinisiotherapeia] it is a modern speciality of paramedic branch which is focused in the support of good natural situation of body and more generally seeks at force confrontation of various [myoskeletikon] diseases.
The [KINISIOTHERAPEYTIS], is the professional that with natural means and techniques will ensure the smooth re-establishment of problems, which emanates from illnesses, special diseases and accidents and will contribute in the integration of individual in the social environment.
This profession requires knowledge of physiology, medical knowledge also above from all the innate need of offer and support in individuals that need BODILY AND PSYCHOLOGICAL support.

.

IF YOU WANT SEE THE OFFICIAL GREEK PAGES
OF THIS SITE, LOOK at your LEFT SIDE and PUSH
"Greek"
LANGUAGE.
ΓΙΑ ΝΑ ΔΕΙΤΕ ΤΗΝ ΙΣΤΟΣΕΛΙΔΑ ΣΤΗΝ
ΕΛΛΗΝΙΚΗ ΓΛΩΣΣΑ , ΠΑΤΗΣΤΕ "GREEK" ΠΑΝΩ ΑΡΙΣΤΕΡΑ!
ΚΑΛΩΣ ΗΡΘΑΤΕ !
WELCOME !